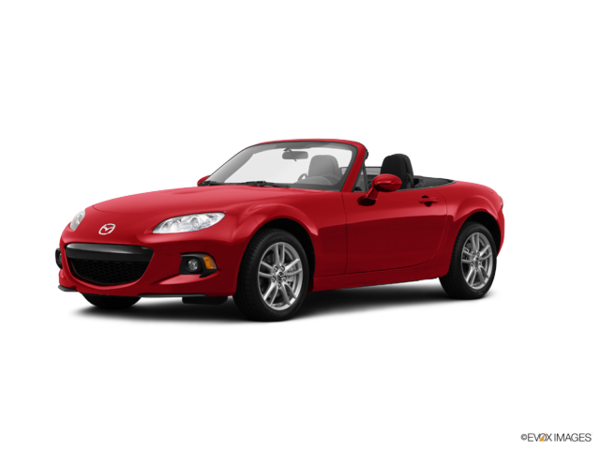 ''The Mazda MX-5 is a lightweight roadster that was produced from 1989 onward. The automaker has sold over 900,000 units to date''
If you are looking for a sporty little convertible that is fun to drive, the 2014 Mazda MX-5 should be on your list. The automaker's coupe is the most popular two-seat sports car in the world, and provides drivers with precise handling that adds to the overall joy of driving the car. As the automaker has described, it's "12 seconds to exhilaration from the top down."
The Mazda MX-5 is a lightweight roadster that was produced from 1989 onward. The automaker has sold over 900,000 units to date, and was declared the best-selling two-seater sports car in history by the Guinness Book of World Records in 2000.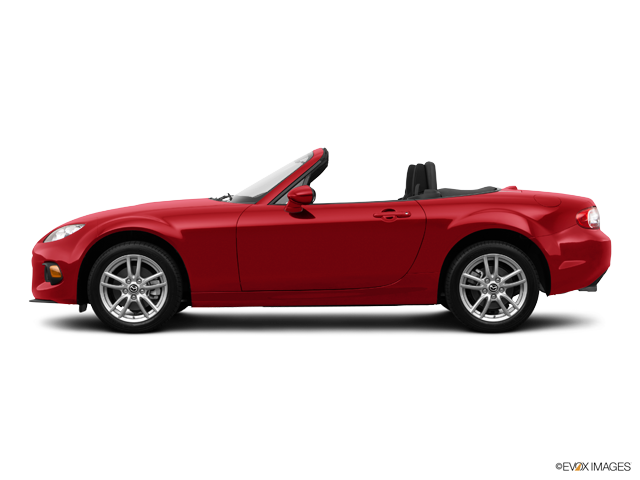 With a starting MSRP of $29,250, the roadster is available in three trim levels: GX, GS and GT. If we use the middle GS trim as an example, the vehicle includes standard features like a "brilliant" black power retractable hardtop, black finish on the headlight bezel, body-coloured door handles, exterior MX-5 graphics, and fog lights to name a few.
The GT trim will add a body-coloured power retractable hardtop, a bright silver finish on the headlight bezel, chrome finish door handles, and Xenon HID headlights. The details certainly give the roadster a more aggressive and sporty look to the already attractive coupe.
The "pure exhilaration" 2014 Mazda MX-5 is propelled by a 2.0-litre 4-cylinder engine, which produces 167 horsepower and 140 lb-ft of torque when coupled with the manual transmission. A 5-speed manual is standard on the GX trim, while a 6-speed is equipped on the GS and GT trims.
When equipped with the optional 6-speed Sport mode automatic transmission with overdrive, the vehicle will generate 158 horsepower. For the added fun of paddle shifters, buyers will have to opt for it with the GS or GT. Either way; the MX-5 provides good, precise handling. The vehicle feels quite responsive, allowing you to enter curves or slip into parking spaces with ease.
All models include an Anti-lock Brake System (ABS) with Electronic Brake Force Distribution, a front independent multi-link suspension, dynamic stability and traction control, among others. The top two trims will add on Limited-Slip Differential and a sport suspension with Bilstein shock absorbers.
Depending on the transmission, fuel economy is rated at 9.2/7.1 litres per 100 kilometres (city/hwy) when equipped with the 5-speed manual. With the 6-speed Sport automatic, consumers can anticipate a rating of 10.1 L/100km for the city, and 7.2 for the highway.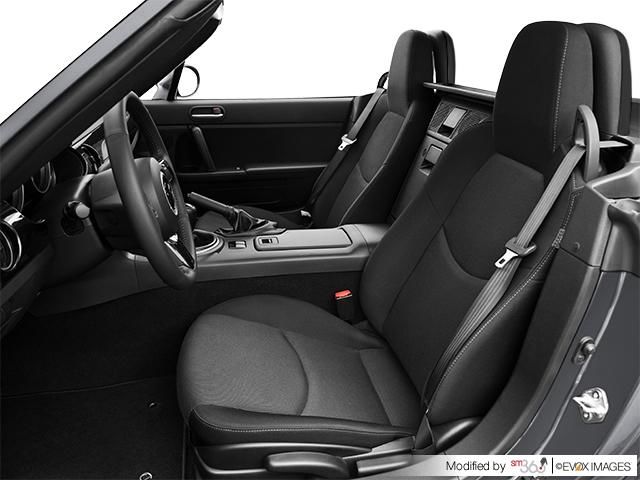 Inside the two-seater sports car, the GS comes standard with air conditioning with automatic climate control, steering wheel-mounted cruise controls, remote keyless entry with panic alarm and a 12-volt power outlet. In terms of seating, bucket seats are provided with cloth upholstery, a body-coloured dash trim with MX-5 graphics, and a leather-wrapped steering wheel and shift knob. The heated seats and leather-trimmed upholstery are standard on the GT.
There is list of other features to browse, some of which include MP3 and WMA functionality on the CD player, auxiliary audio input and steering wheel-mounted audio controls. The satellite radio, Bluetooth with hands-free phone integration and a 7-speaker premium Bose audio system are elements one can enjoy when opting for the GT.
The automaker's 2014 Mazda MX-5 roaster is a pleasure to drive. As the best-selling two-seater sports car in history, the MX-5 is clearly a vehicle to consider. Buyers interested in booking a road test should contact their Performance Mazda dealer.
Enjoy driving the MX-5 this summer, and don't forget to drop the top!
Gallery