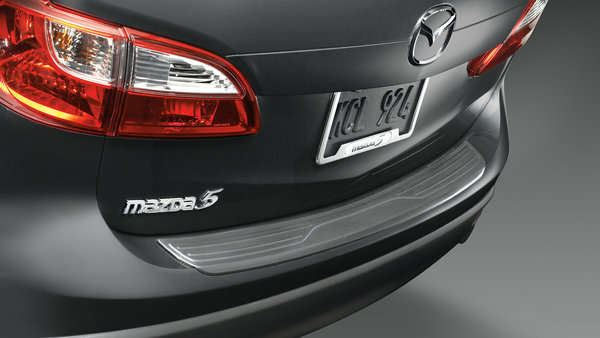 Not every minivan has to be huge. Not every minivan has to be called a minivan. Some are called mini vans, like the 2015 Mazda5.
Perhaps one of the most versatile and practical cars on the market right now, the Mazda5 offers up interior space, seating, and that Mazda drive and reliability customers have come to know and appreciate.
While the 2015 Mazda5 has yet to be revamped and redesigned à la CX-3, CX-5, Mazda3, and Mazda6, it's still every bit a stylish, modern Mazda from nose to tail. Sculpted siding and that familiar Mazda mug up front ensure the 2015 Mazda5 makes a statement on the road and remains eye-catching whether on the move or parked in your driveway.
Inside, the 2015 Mazda5 remains familiar. While not yet updated with Mazda's brand-new HMI, it still features the outgoing system that's not only easy to use but full of modern-day features such as Bluetooth, steering-wheel mounted buttons, USB ports, and satellite radio.
The unique positioning of the shift lever helps enlarge the 2015 Mazda5's sense of interior space. With seating for six, the 2015 Mazda5 offers up 112 litres of cargo space behind the third row. Fold that third row down and that increases to 426 litres, and with both rows down you'll have 857 litres to fill with anything your heart desires.
To get all those features and space moving, the 2015 Mazda5 is equipped with a 2.5L 4-cylinder mill that produces 157 horsepower and 163 lb-ft of torque. There are two transmission choices available: a 6-speed manual and a 5-speed automatic. Power is sent to the front wheels at all times.
The real beauty of the 2015 Mazda5 is, of course, its sliding doors. Ideal for loading and unloading passengers and children in baby seats, the Mazda5 is versatile and functional with plenty of interior space without being difficult to park, and being ideal for city life.
The 2015 Mazda5 is the ultimate blend of big-car functionality in a small-car package that would be at home in any small-family driveway or in a crowded parking. Loaded with amenities and a comfortable, roomy interior with plenty of space for all and their gear, the Mazda5 is a great vehicle for young families or those who tend to carry a lot of gear all the time.
If you want to find out more about the 2015 Mazda5, head down to Performance Mazda today to speak with one of our experts. Make sure you book a test drive!
Gallery