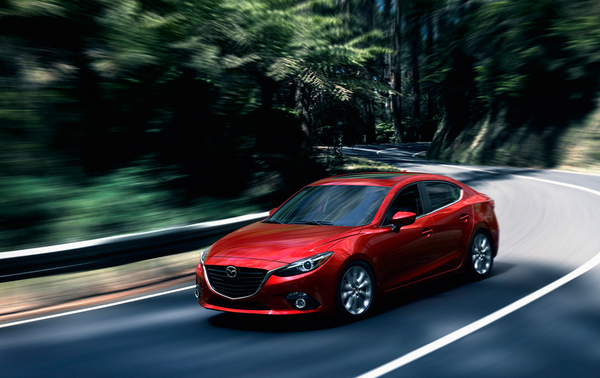 When it comes to having fun driving a compact sedan or hatchback, no other car can deliver like the Mazda 3.
The 2016 Mazda 3: a unique style within reach
Since it first arrived on the market, the Mazda 3 has been widely popular with buyers in Quebec. The province's consumers have different needs than elsewhere in the country and they like to have fun behind the wheel of their vehicle, even if they are just going to work.
That's why the Mazda 3 has had so much success since it first launched here in 2004. With the current generation unveiled in 2014, the Mazda3 retains its sporty handling and dynamic suspension, but also adds fuel economy to the mix thanks to SKYACTIV technology.
Starting at $ 15,550, the Mazda 3 is offered in four versions with two body types. There is the standard Mazda 3 sedan, as well as the Sport model, a hatchback that offers quite a bit more interior space for those that need it, mostly in the cargo area.
The base engine is a 2.0-liter four-cylinder unit that delivers 155 horsepower. A six-speed SKYACTIV manual transmission is standard. The latter is now lighter and more compact in order to provide better performance while also helping in the fuel economy department. Buyers can also opt for the six-speed SKYACTIV automatic transmission which combines the best attributes of a continuously variable transmission with the sporty behavior of a dual-clutch setup.
In terms of fuel economy, the 2.0 liter engine averages up to 5.8 liters per 100 kilometers which makes it one of the most fuel-efficient engines in its class.
A lot of affordable features for the 2016 Mazda 3
The base Mazda 3, the G model, offers quite a bit of standard features. Buyers get a smart key system with push-button start as well as electric windows and door locks. Upgrade to the GX model and you will get a rearview camera, a central screen housing the MAZDA CONNECT infotainment system, and Bluetooth, all for $ 18,350.
Then comes the GS variant which features 16-inch aluminum wheels and heated seats, among other features. The top-of-the-line Mazda 3 is the GT with its powerful 184 horsepower engine and 18 inch wheels. The GT also comes with bi-xenon headlights and a navigation system.
A sunroof and leather seats are also offered on various Mazda 3 models. In terms of safety, buyers can opt for the i-Activesense system which includes a host of active safety systems including adaptive cruise control and blind-spot monitoring.
When it comes to having fun driving a compact sedan or hatchback, no other car can deliver like the Mazda 3. And now, it also features improved fuel economy to go with the performance which comes standard. To learn more about the 2016 Mazda 3, contact us today at Performance Mazda!