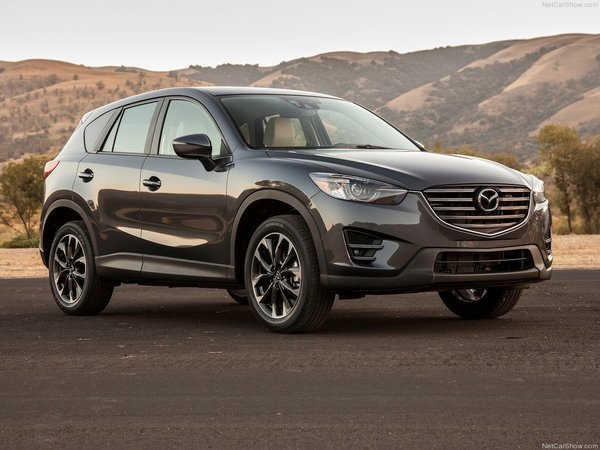 When the Mazda CX-5 arrived on the market a few years ago, it quickly made us forget the Mazda Tribute compact sport utility vehicle it replaced.
If the Tribute always struggled to stand out, it's just the opposite with the CX-5, which has become in a short period of time one of the most popular models in a crowded SUV segment. To do this, the CX-5 offers dynamic handling, a sporty design, a fuel-efficient engine that is still powerful, and plenty of space.
When consumers are looking for a compact SUV, they usually do not want to compromise. And with all the choices available to them in the segment right now, they really do not need to do. This is why the Mazda CX-5 has become so popular. It does not require the owner to make any concessions, and at the same time allows him or her to enjoy a versatile and spacious vehicle that has it all including fuel economy and driveability.
Developed according to the KODO design philosophy, the Mazda CX-5 displays sporty and dynamic lines with perfect proportions. That said, Mazda is not the kind of manufacturer to sit on its laurels, which is why the 2016 edition of the CX-5 offers several interesting features like a redesigned grille, new wheels, modified bumpers and a few modifications inside also that include new features in terms of connectivity.
When it comes to engines, its the status quo as the CX-5 offers the same two SKYACTIV engines as last year. Available in three versions: GX, GS and GT, the 2016 CX-5 GX is powered by a SKYACTIV-G 2.0-liter engine developing 155 horsepower and 150 lb-ft of torque. It comes standard with a six-speed manual gearbox and front-wheel drive, and displays an average fuel consumption of 6.8 liters per 100 kilometers on the highway. It can also be paired with a six-speed automatic transmission, and AWD.
The other two models are powered by a more powerful 2.5-liter four-cylinder that delivers 184 horsepower and 185 lb-ft of torque. Still featuring SKYACTIV technology, this engine will display an average fuel consumption rating of 7.1 liters per 100 kilometers on the highway despite impressive power.
Offered from $ 22,995, the 2016 Mazda CX-5 offers a range of equipment including leather seats, dual-zone air conditioning, a navigation system, heated seats and more. If one opts for the i-Activesense system, they get a host of active safety systems such as adaptive cruise control, collision monitoring system with automatic braking, blind spot monitoring system and a lot more.
There is a reason why the Mazda CX-5 is so popular. Discover the 2016 edition today at Performance Mazda!
Gallery