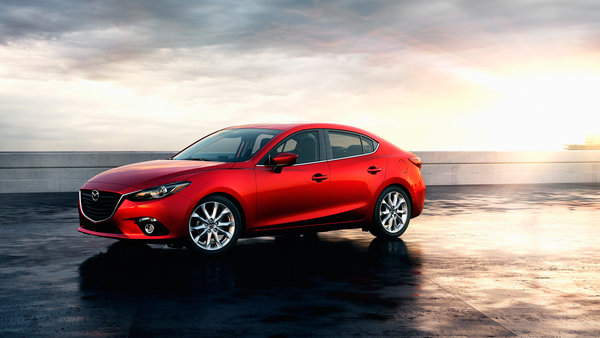 When the time comes to choose between the 2016 Mazda3 and 2016 Honda Civic in Ottawa, many consumers have difficulty making up their minds.
That's because one of these two cars, the Mazda3, is made to awaken the senses while the other receives nothing but praise from those who have driven it.
The good news, if you find yourself having difficulty choosing between these two compact sedans, is that they each have a very distinct personality, and will be able to meet many different needs.
2016 Mazda3: Have Fun Driving in Ottawa
So, once you have determined your needs, the choice becomes easier. The 2016 Mazda3, for example, is the undisputed queen of driveability. Powered by SKYACTIV technology and draped with a sporty silhouette inspired by the KODO design language, the Mazda3 is a car for Ottawa's driving enthusiasts.
Like the 2016 Civic, it offers two engines under the hood. The first, a 2.0-liter four-cylinder unit, develops 155 horsepower and 150 lb-ft of torque. Despite its high output, this engine's fuel consumption proves quite reasonable and can reach 5.7 liters per 100 kilometers on the highway. Unlike the 2016 Civic which is also efficient, the Mazda3 in Ottawa offers a more traditional six-speed automatic transmission, while the Honda offers a CVT-type automatic transmission which is a bit different.
In its most powerful version, the 2016 Mazda3 offers a four-cylinder 2.5-liter engine that delivers 184 horsepower compared to 174 for the 1.5-liter turbo Civic. Offered in the GT version, the engine remains economical and can be paired to a six-speed manual gearbox, something the most powerful engine in the Civic does not offer.
A More Versatile Version of the 2016 Mazda3 in Ottawa
If you are looking for versatility, the 2016 Mazda3 Ottawa also offers a hatchback version called Sport. The Civic does not currently offer a hatchback version. So you get all the sporty driving characteristics of the Mazda3, but with even more space.
For more information on the 2016 Mazda3, contact us today at Performance Mazda in Ottawa!
Gallery