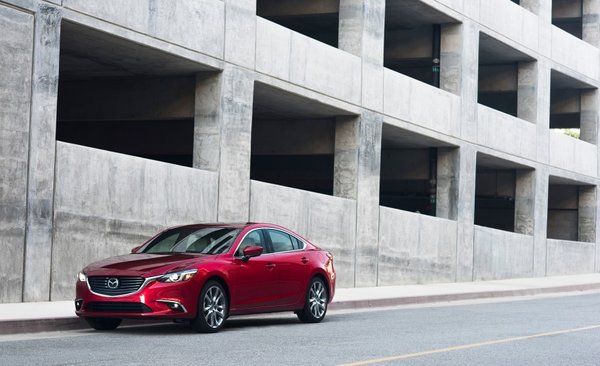 If Mazda has built a reputation for making fun, dynamic and good-looking vehicles, the new 6 takes it a step further.
Jinba Ittai -- horse and rider feel as one. That is the motto behind the updated 2017 Mazda6. If Mazda has built a reputation for making fun, dynamic and good-looking vehicles, the new 6 takes it a step further. With considerable upgrades to its handling and to the driving experience it offers. With a look that keeps heads turning and a reputation that needs no introduction, the Mazda6 has all the pieces into place to face a fierce competition with every intention to win.
Torque vectoring seems to be one of those trends manufacturers are setting. Mazda is no exception and for 2017, the 6 receives the G-vectoring control technology. This is where jinba ittai comes into play; the GVC is a Skyactiv technology, first of a series, set to improve engine, transmission and chassis control in order to provide a better driver-centric experience and a better driver-car integration. Everything about the 2017 Mazda6 revolves around offering an even better driving experience. Add to this more dynamic than ever handling a modern and sophisticated look and the 6 becomes a stronger player in its segment yet. The midsize sedan received an upgraded look two years ago, one of the best looking iteration to this day.
On the inside, the Mazda6 has received a few upgrades as well, mostly under the sheet metal. Soundproofing has been improved thanks to tighter tolerance between panels, added insulation in critical locations such as the underbody and the doors, improved door seals and thicker glass at the front. Entry-level models also receive more standard features, such as the wide-angle rear-view camera. Other available features include navigation, heated steering wheel, available Napa leather seats, satellite radio, dual-zone climate controls, wheel-mounted commands, cruise control, remote, keyless access with push button start, moonroof, heated front seats and seven-inch touchscreen. The flight of latest technologies available in the 2017 Mazda6 also include safety technologies such as smart city brake support, advanced blind spot monitoring, traffic sign recognition, lane departure warning system, forward obstruction warning, radar cruise contrôle and much much more.
One powertrain is available throughout the different trims and packages; the very capable 2.5L Skyactiv four cylinder engine rated at 184 hp and 185 lb-ft of torque. For a more old school drive, the Mazda6 is also one of the only midsize sedans still offer with a standard six-speed manual transmission that can be upgraded to a full six-speed automatic for more driving comfort.
At only $24,695, the 2017 Mazda6 is guaranteed to rekindle your flame for driving thanks to plenty of comfort and safety technologies and a spirited drive that will leave you wanting more. A test drive will convince you, come check it out at Performance Mazda.
Pictures source : http://www.caranddriver.com/photo-gallery/2017-mazda-6-debuts-with-g-vectoring-control-more-luxury-official-photos-and-info#36
Gallery