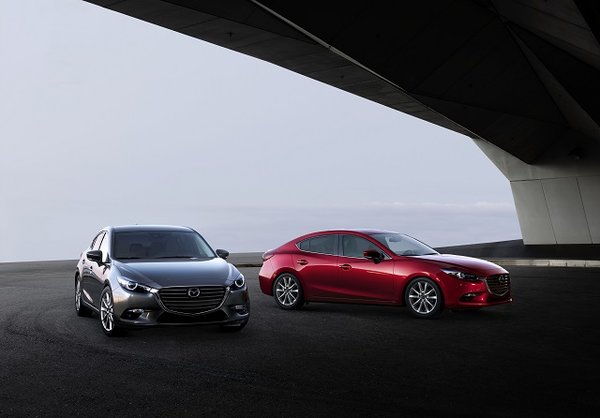 When consumers are looking for a new car, they usually develop a list of criteria that must be met by their next vehicle. These criteria can include things like fuel economy, or driving pleasure. Other criteria may be the interior space or the exterior style. These criteria are generally among the most important for the majority of buyers, and the 2018 Mazda3 is able to meet every single one of them.
2018 Mazda3: still among the best-sellers
So it's no surprise that the Mazda compact is so popular with buyers, especially since it received several upgrades last year. Among these improvements are several new developments in exterior design and cabin refinement, and a new technology called G-Vectoring has been added to enhance the comfort and stability of the car.
The 2018 Mazda3 is still powered out of the gate by a 2.0-liter four-cylinder engine producing 155 horsepower and 150 lb-ft of torque. This engine is equipped with SKYACTIV technologies so it delivers impressive performance while being one of the most fuel efficient in its segment. Indeed, it displays an average fuel consumption that can be as low as 6.2 liters per 100 kilometers.
The other engine option is a SKYACTIV 2.5-liter four-cylinder that develops 184 horsepower and 185 lb-ft of torque. This engine is equally impressive and proves to be one of the most powerful of its segment.
A very versatile version of the 2018 Mazda3
The 2018 Mazda3 also features the Sport version, a hatchback version that is very versatile with its 572 liters of cargo space with all seats in place. Better still, the 2018 Sport Mazda3 can have more than 1,300 liters of cargo space when the rear seat is lowered.
To learn more about the new 2018 Mazda3, contact us today at Performance Mazda.
Gallery