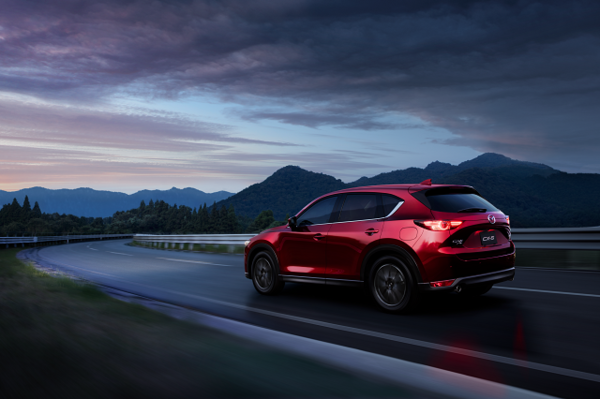 The 2017 Mazda CX-5 is a compact SUV that truly stands out in its segment, and that has been the case ever since it was first introduced to the market. At Performance Mazda, we understand that Mazda buyers want all the reliability and comfort that are normally associated with Japanese vehicles, but they are also looking for that little something extra when it comes to sportiness and agility, and more…
That's why we are convinced that the 2017 Mazda CX-5 is the right vehicle for you. And here are five reasons to prove it.
An inspiring design
As we mentioned previously, the 2017 Mazda CX-5 is not an SUV like any other. While most of its competitors simply offer a rather dreary design, Mazda pushes the envelope with the style of its new CX-5. No matter which angle you look at, the CX-5 will make you want to go for a ride!
It's fun to drive
The Mazda CX-5 is the SUV for people who like to drive. With its 2.0-liter or 2.5-liter SKYACTIV engine and its standard G-Vectoring Control system which ensures improved comfort, the 2017 Mazda CX-5 carries itself like a car, with all the versatility benefits of an SUV!
The Mazda CX-5 is also one of the few vehicles in its class to offer a manual transmission. Yes, if you like to have fun behind the wheel of your vehicle, the CX-5 is for you.
Greatly improved comfort and quietness
For 2017, Mazda gave the CX-5 a more refined interior, more soundproofing, and greater comfort thanks to a host of improvements and the addition of G-Vectoring control. This can be seen in the design and in the quality of the materials, but it also when you are driving down the road. Mazda has for instance put a lot of effort into reducing wind noise, even at high speeds. You will be impressed with the results.
A surprising price
With all it offers for 2017, you might think that the Mazda CX-5 is out of your budget. And yet, with a base price of just $ 24,900 at Performance Mazda, the CX-5 is surprisingly affordable.
A warranty that makes you smile
A vehicle is made to be driven. Mazda understands this, and that's why they gave the CX-5 a three year comprehensive warranty that has no mileage restrictions. That means that no matter how many kilometers you drive in those first three years, you are covered.
The 2017 Mazda CX-5 is all that and more. For more details, do not hesitate to come and see us at Performance Mazda!
Gallery