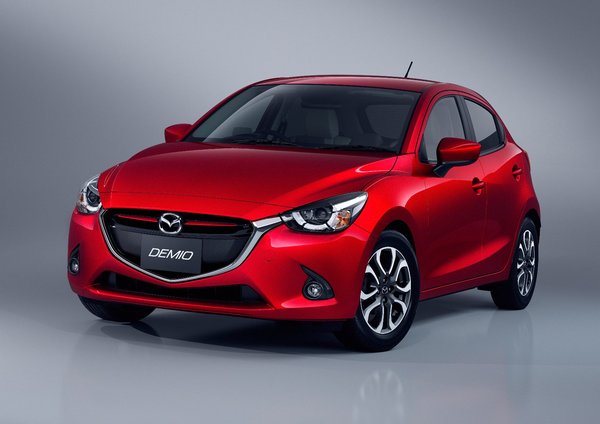 The all-new Mazda2 was unveiled just before the official opening of the Montreal International Auto Show last week. The latest subcompact to make its entry into the market was subsequently showcased at the Palais des Congrès in Montreal where visitors could discover its new shape and new features.
Visually, the new 2016 Mazda2 is inspired by Mazda's KODO visual signature. Already seen on the Mazda3, Mazda6, Mazda MX-5, and Mazda CX-5, this design philosophy results in sporty and aggressive lines that allow Mazda models to significantly standout visually in their respective segments. In person, the Mazda2 displays almost perfect proportions and an almost European silhouette that is slim and rounded. The front grille immediately displays the personality of the car, as do the sharp headlights and the curved line of the roof.
But it is inside that the Mazda2 truly shines. The interior of the new 2016 Mazda2 is particularly sporty and beautiful. One appreciates the quality of the materials used in the interior, and generous lateral support offered by the front seats suggests that the Mazda2 will be really fun to drive. As a matter of fact, the Japanese manufacturer wants to make the Mazda2 a car that will appeal to consumers looking for a small car that is both fun to drive and fuel-efficient.
At the heart of the car is a four-cylinder, 1.5-liter SKYACTIV-G engine whose power and torque numbers remain unknown. On the other hand, we know that this engine will offer the full range of SKYACTIV technologies that improve engine performance while making it more economical. A six-speed manual gearbox will be available while an automatic 6-speed gearbox will be optional. These two transmissions were designed to be more compact, but also lighter.
Under the sculpted lines of the Mazda2 is a SKYACTIV chassis built with lightweight yet rigid materials. From a dynamic point of view, this frame allows the car to be more nimble and showcase good stability on the road while being lighter and therefore consuming less at the pump.
Mazda vehicles have always been recognized for their ability to provide fun and dynamic handling. Since the arrival of SKYACTIV technology, Mazda is also known for its fuel economy. This should allow the new Mazda2 to stand out by being both sporty and fuel-efficient. To learn more about the new Mazda2 and the current model, please contact us at Performance Mazda today!