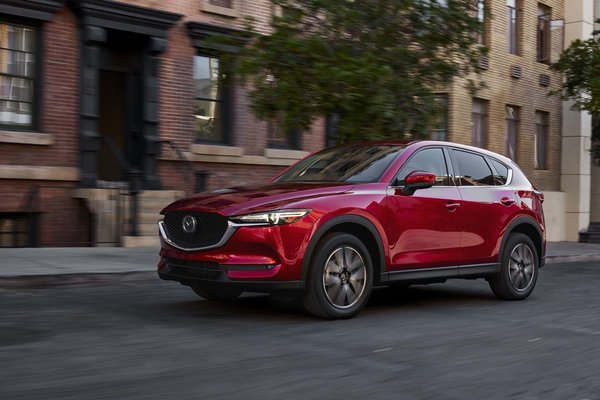 Mazda unveiled one of the most discussed models of the first few days of the Los Angeles Auto Show yesterday by raising the veil on the all-new 2017 Mazda CX-5, the latest generation of the popular compact SUV from Mazda which is now its most popular model. With the 2017 Mazda CX-5, consumers get a more refined cockpit, a more distinctive body, and a host of new technologies.
A new 2017 Mazda CX-5 for Ottawa
The new 2017 Mazda CX-5 also receives another significant change, the addition of a diesel engine. This engine, called SKYACTIV-D, is a 2.2-liter four-cylinder engine already available in other markets, including Europe, where it powers the Mazda6 with 173 horsepower. The engine's specifications on the Canadian market are not yet known, but we should know more soon enough. With one of the lowest compression ratios in the industry, this engine will be able to meet all environmental emission standards.
The 2017 Mazda CX-5 will also be offered with the same engines as the current generation. It will therefore get a 2.0-liter four-cylinder engine with SKYACTIV technology developing 155 horsepower, or a four-cylinder, 2.5-liter unit developing 184 horsepower. Front-wheel drive will be standard while all-wheel drive will be optional.
Another exciting feature found in the 2017 Mazda CX-5 is Mazda's new G-Vectoring Control technology, which improves passenger comfort by reducing steering movements. There is therefore less movement in the passenger compartment, and on the highway there are fewer corrections to be made to the steering wheel.
A new design for the 2017 Mazda CX-5 in Ottawa
Visually, the 2017 Mazda CX-5 hasn't revolutionized its design, but it has made several changes that make it more refined and that it will make it possible to immediately notice that you are looking at the new CX-5. Examples include a new grille and front end that is reminiscent of the new Mazda CX-9. A new color will also be added to the CX-5 which will be called Soul Red Crystal. It is a very deep color that slightly changes depending on the angle at which it is viewed.
Inside, new and more refined materials combine with several redesigned elements like the center console to make the 2017 CX-5's cockpit a more luxurious and comfortable place. Interior space remains essentially the same as the present generation.
To learn more about the new 2017 Mazda CX-5, contact us today at Performance Mazda!
Gallery