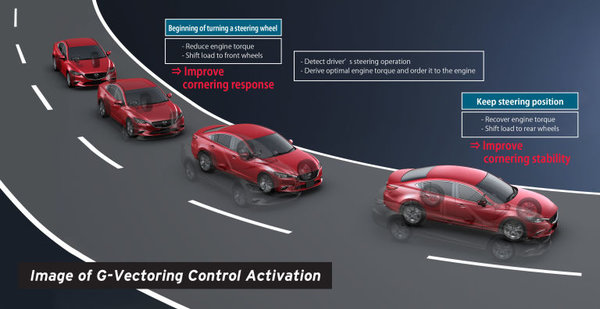 Right before the Montreal International Auto Show officially got underway, Mazda was awarded the Automotive Journalists Association of Canada's Best New Innovation Technology Award for its all-new G-Vectoring Control technology. GVC is aimed at improved the overall driving experience by improving comfort and vehicle stability. The award was determined by a panel of 12 AJAC technology experts.
G-Vectoring Control: making your Mazda more comfortable and more stable
Mazda's new G-Vectoring Control technology is designed to improve both vehicle stability and comfort, and is part of the Japanese manufacturer's all-new SKYACTIV-VEHICLE DYNAMICS suite of technologies that aim to enhance the driving experience by providing integrated control of the vehicle's main components: engine, body, chassis and transmissions.
There are a lot of technicalities in both SKYACTIV-VEHICLE DYNAMICS and G-Vectoring Control, but the end result is fairly simple to understand. The idea behind G-Vectoring Control is to make the vehicle more stable, more fluid and more linear. GVC uses the SKYACTIV engine's torque to provide unified control over longitudinal and latitudinal acceleration forces.
In other words, the system reduces the shifts and weight and the resulting side to side or front to back movements felt by the passengers inside a vehicle. The engine's torque is matched to the driver's steering inputs and direction changes in order to smooth the vehicle's transitions and resulting movements. Inside, passengers will feel that their torso and head are more stable which translates into greater comfort.
Mazda's G-Vectoring Control also improves highway behavior as the car requires less steering corrections and driver inputs to remain in a straight line. Moreover, GVC improves stability and control on slippery surfaces by improving steering response and optimizing loading for maximum grip with each tire.
"Our Mazda engineers have an obsession with the perfection of driving dynamics for our vehicles, and they invested a lot of time and effort into developing this technology, which is possible only because of the advancements made by SKYACTIV Technology," said Rob Murdoch, National Manager, Technical Services, Mazda Canada. "GVC is just another example of the passion for driving that runs through our veins, and we're honoured to receive this award."
Offered in the new 2017 Mazda3 as well as in the Mazda6 and all-new 2017 Mazda CX-5, G-Vectoring Control will eventually make its way to every new Mazda vehicle as part of each model's standard equipment. To learn more about GVC and Mazda's SKYACTIV-VEHICLE DYNAMICS, contact us today at Performance Mazda!