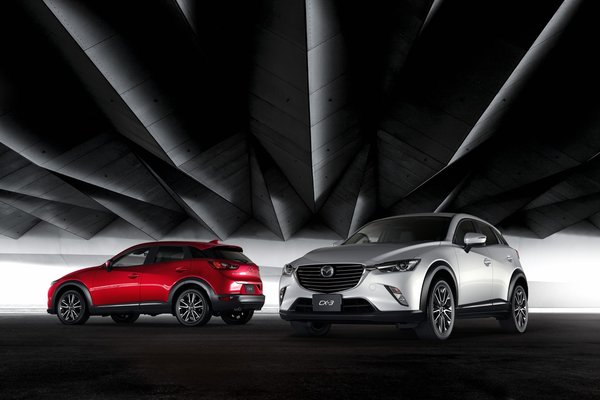 In terms of innovation, Mazda knows how to stand out from the competition.
Whether we are talking about the i-ACTIV AWD system or the energy regeneration system i-ELOOP, Mazda develops technologies that simply do not exist elsewhere. But the most striking example of this innovation is without question the SKYACTIV system.
Improve fuel economy with SKYACTIV
Present in almost all models in the Mazda range as well as all upcoming models, SKYACTIV is a set of improvements designed primarily to reduce fuel consumption while ensuring that Mazda's renowned driving dynamics are preserved.
To do this, the Japanese automaker made significant improvements to the engine, transmission, chassis and body of its vehicle lineup. The main objective? Reduce weight and improve the efficiency of these components in order to obtain the best possible level of performance while at the time reducing fuel consumption as much as possible.
It all starts with the SKYACTIV-G engines. Take for example the 2.0-liter, four-cylinder engine. The latter produces more torque at low and medium RPM compared to the previous 2.0-liter engine and is more efficient while emitting fewer emissions. The 2.5-liter engine has one of the highest compression ratios on the market today which allows it to get more energy from every drop of fuel. All of this makes it possible to obtain the desired performance with optimum fuel consumption.
Mazda engineers have also reduced internal friction inside the engine. This friction consumes energy and when it is reduced, less effort is required from the engine. Again, this helps to improve overall efficiency. Finally, the 4-2-1 exhaust system is designed to improve air circulation. An engine that breathes better is by definition more efficient, but, again, will also offer better performance.
Further improvements with SKYACTIV
The six-speed manual and automatic gearboxes from Mazda also rely on SKYACTIV and have also been improved with the aim of being lighter and more comptact. Their performance has also been optimized to get the best feel possible. SKYACTIV automatic transmissions, for example, reproduce the sensation of driving a dual-clutch automatic transmission, but with the fuel economy of a continuously variable automatic transmission.
In closing, note that chassis rigidity has been increased while the weight has been reduced. This provides improved safety which does not come at the expense of vehicle weight and therefore fuel economy.
To learn more about SKYACTIV technology, contact us today at Mazda Performance!