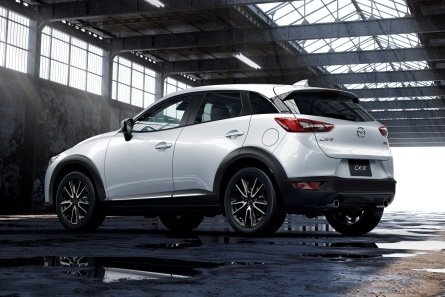 When it makes its way onto the market in the near future, the 2016 Mazda CX-3 will be undoubtedly one of the most popular vehicles of 2015 and beyond. With the CX-3 we get a vehicle that offers several features that are particularly useful and desired by consumers.
For example, its compact dimensions make it agile in the city, its SKYACTIV engine make it a friendly vehicle at the pump that also is also powerful, and its impressive style make it a vehicle that will surely turn heads. No doubt, the CX-3 is going to be quite successful. If you are looking for a small vehicle that offers ample interior space and remains fun to drive, the CX-3 may very well be for you. Here's what you need to know about Mazda's sub-compact SUV.
1. Its style is remarkable
Obviously the style of a given vehicle remains a matter of taste. Everyone will have their opinions, but it remains that the CX-3 has so far garnered a lot of positive press from the media for its KODO visual language-inspired design. Mazda's small SUV showcases a body that is both modern and stylish, and its proportions are perfect.
2. Its SKYACTIV engine is both fuel-efficient and powerful
The 2016 Mazda CX-3 is powered by a four-cylinder, 2.0-liter engine developing 146 horsepower and 146 lb-ft of torque. This power is sent to the front wheels via a six-speed automatic transmission, and AWD is optional. Despite its decent amount of power, the CX-3 remains fuel-efficient with its average fuel economy that varies between 6.7 and 7.3 liters per 100 kilometers on the highway depending on the model you choose.
3. Its interior is very well-designed
The interior of the Mazda CX-3 features more than enough space for two adults in the front and children in the back. Indeed, the small Mazda SUV is able to accommodate a small family while still offering plenty of space in the trunk. What surprises the most, however, is the style of the cabin. In fact, visually, the Mazda CX-3's interior is very impressive with a sporty design using materials of very good quality.
4. It is affordable
The Mazda CX-3 will be priced starting at $ 20,695. It will offer three versions as is the norm at Mazda as consumers can choose between the GX, GS or GT.
With its stunning style, its efficient engine, its interior space and affordable price, the Mazda CX-3 will be an important player in 2015.
Contact us today at Performance Mazda to find out more!