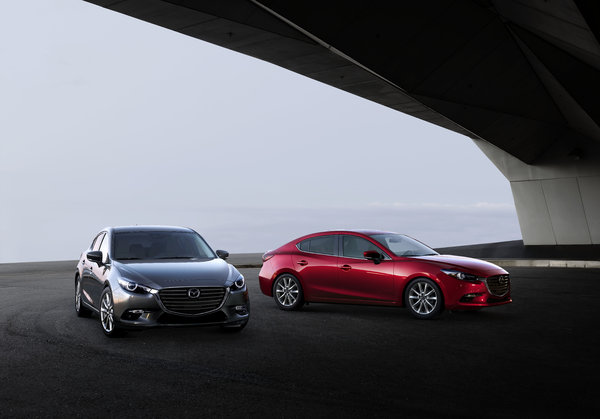 Redesigned this year, the 2017 Mazda3 continues to offer sporty road handling and a fun drive, but the compact Mazda also offers a more refined interior, an even more noticeable design, and a new technology called G-Vectoring Control which aims to reduce the movements of the occupants in the cabine and the corrections that must be made to the steering wheel in the city and on the highway.
With G-Vectoring control, the 2017 Mazda3 is much more comfortable in addition to preserving its sharp driving personality. And of course, thanks to SKYACTIV technology, the 2017 Mazda3 remains one of the most fuel-efficient vehicles in its segment.
Here is a summary of the different versions of the 2017 Mazda3. For more information or to book your test drive, contact us today at Performance Mazda!
2017 Mazda3 GX
Price: $ 15,900
Engine: 2.0-liter four-cylinder engine developing 155 horsepower and 150 lb-ft of torque
Transmission: Six-speed manual transmission or six-speed automatic transmission
Fuel consumption: 8.5 liters per 100 kilometers in the city, 6.2 liters per 100 kilometers on the highway (manual transmission)
Standard equipment
Push Button Start
Power doors
Power windows
16-inch steel wheels
G-Vectoring Control
Optional Convenience Package ($ 2,650)
Air conditioner
Bluetooth
Electronic parking brake
Steering wheel-mounted cruise control
Rear view camera
MazdaConnect infotainment system with 7-inch screen
2017 Mazda3 GS
Price: $ 22,130
Engine: 2.0-liter four-cylinder engine developing 155 horsepower and 150 lb-ft of torque
Transmission: Six-speed manual transmission or six-speed automatic transmission
Fuel consumption: 8.5 liters per 100 kilometers in the city, 6.2 liters per 100 kilometers on the highway (manual transmission)
Standard equipment
All the equipment of the GX model with Convenience package plus
16-inch alloy wheels
Heated front seats
City brake assist system
Note: the sunroof is optional for $ 900
2017 Mazda3 GT
Price: $ 25,830
Engine: 2.5-liter four-cylinder engine developing 184 horsepower and 185 lb-ft of torque
Transmission: Six-speed manual transmission or six-speed automatic transmission
Fuel consumption: 9.3 liters per 100 kilometers in the city, 6.9 liters per 100 kilometers on the highway (manual transmission)
Standard equipment
All GS equipment with sunroof plus
18-inch wheels
LED taillights
LED headlights with self-leveling technology
Premium Group ($ 2,900)
Leather seats
High-end 9-speaker BOSE Audio System
Power driver's seat
Navigation system
Keyless entry
Auto-dimming rearview mirror
Black metallic grille
I-ActiveSense Safety Systems
Adaptive cruise control
Collision prevention System
Lane departure warning system
Lane departure prevention system
Forward collision warning system
High-beam headlight control system
Gallery