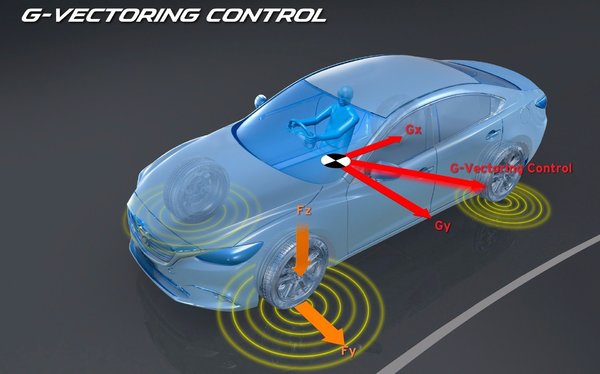 One glance at the data sheet of a Mazda vehicle and we quickly realize that there are many technologies integrated into the Japanese manufacturer products, and that each one carries a unique name which, quite often references a set of technologies. Such is the case with the i-Activesense group for safety, or SKYACTIV which also includes several elements.
Then this year, Mazda introduced a new technology called G-Vectoring Control. In this case, however, it is not a group of technologies but only one. G-Vectoring Control is part of a package called SKYACTIV-VEHICLE Dynamics that will be developed in the near future to include several technologies that aim to create a more dynamic drive and provide a greater sense of control to the driver.
Improved comfort with Mazda's G-Vectoring Control system
Back to G-Vectoring Control. Although its name suggests that it is a system designed to improve performance at high speed, it is rather a technology that aims to improve the comfort of the vehicle's occupants, mainly at low speed.
In simple terms, G-Vectoring Control system uses special software and engine torque. By detecting steering movements and the interaction between the driver and the car, G-Vectoring Control is able to reduce the torque sent to the wheels to reduce smooth weight distribution and vehicle movements.
Who has not felt themselves moving back and forth when we are passengers in a vehicle driven in the city? Or, who has never been forced to center the steering wheel repeatedly on the highway? The G-Vectoring system aims to stabilize the steering and reduce the weight transfers that come with turning in order to improve the comfort of the passengers and make the drive that much more pleasant.
Behind the wheel of a Mazda vehicle equipped with G-Vectoring technology, one feels more stable. Moreover, on the highway, our hand moves less from left to right when it holds the steering wheel, making the drive less tiring.
G-Vectoring technology will be on all Mazda models in the near future. For now, you can try it on the all-new 2017 Mazda3 at Performance Mazda! Contact us today to book your appointment!